REWARD IS NOW $2,000!
A $2,000 reward is being offered to anyone providing information which leads to the arrest and conviction of the person or
persons who acted cruelly to feral cats at Lick Skillet on or
about May 6, 2013. Please contact the Clay County Sheriff's
Office at 904. 264.6512 with any information that may
help put an end to this malicious behavior.
___________________

WATERFRONT POOL OPEN TO ADULTS ONLY
As of Saturday, May 18, the Lap Pool at Waterfront Park
is now available to residents 18 and older only.
All other pools are now a comfortable 80 degrees.
___________________
RESIDENT GOLF RATES
Did you know that Eagle Harbor residents
get a discount on golf at the Club?
Monday-Thursday Before 12 p.m.: $39+tax
Monday-Thursday from 12-3 p.m.: $35+tax
Friday-Sunday & Golf Holidays Before 12 p.m.: $49+tax
Friday-Sunday & Golf Holidays from 12-3 p.m.: $35+tax
Call (904) 269-9300 to book your tee time!
___________________

EAGLE HARBOR IS NOW ON FACEBOOK & TWITTER!
"Like" and Follow our Official Pages Today!



___________________


EAGLE HARBOR LICENSE PLATE SALE!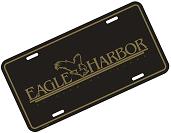 Want an Eagle Harbor License Plate? Here's your last
chance to get one! We only have a limited quantity remaining,
and they're on sale for $6 - that's 50% off!
Stop by the Golf Clubhouse to get yours today!

___________________

STAY IN THE KNOW!
Want to know what's going on this month?
Click "
Calendar
" above! All of this month's special
events are highlighted in tan. Or, point your mouse
to Swim & Recreation > Upcoming Events!